Vietmark's Fam Trip 2009
RETURN TO PREVIOUS PAGE
July 03,2015 |
On 14th - 15th November, 2009, Vietmark has organized a Racing Up Time program for 50 persons who are the general director.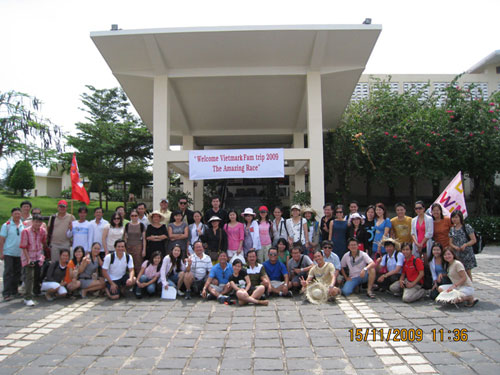 Program outline
Fam Trip 2009 - Binh Thuan
Racing Up Time

On 14th - 15th November, 2009, Vietmark has organized a Racing Up Time program for 50 persons who are the general director, directors and managers of companies as: Oriflame, An Nam group, AON, San Miguel, Jotun, Capitaland, Navibank, United Pharma, Vien Thong A, Vinagame, Akzonobel, Nestle, SV Technologies, VECOM, The University of Teachers's Training of HCMC… More than that, there are a lot of reporters of TV station and newspapers such as: HTV, Sai Gon Tiep thi, Doanh nhan Saigon, Phap Luat HCMC, Sai Gon Giai Phong…

"Racing Up Time" is a team building program which will give participants an opportunity to find a strategy to race in a distance of 120 km from Long Khanh to La Gi with a number of challenges which acquired them to find out the means of transportation to get the last destination, overcome the games en route by teamwork spirit and have an insight into the local communities' culture….After all, they can reach the finish point with a best result followed criteria:

(1) The lowest transportation fee.
(2) Achievement of each station.
(3) Rank of team at the last station.

This trip is also a perfect chance for all participants to experience life skills, explore the geography, history and culture along the route. Moreover, the trip is a chance for Vietmark's customers and the media-men to familiarize with each other.

A plenty of comments have been sent to us for sharing the feeling and contributing to build a better next trip :

From San Miguel - Vietnam:
This is the second time I participate in a trip with Vietmark, and I can say that Vietmark is the best and most impressive organization in the beach game tour. In the last time I had to pay for my traveling but this time, great, it's free! I am really surprise because of the creative, exciting, thrilling and "foreign way" activities. The foreigner, especially European, always has trips like this, it is even more spectacular.

The activity in this trip has given us a large knowledge about Vietnam's history. During the normal trips, the guides tell us about that but in fact we can not remember it. But it's a difference when we directly explore history through games, we never forget it.

After brainstorming and finding out the answer for the question, it had given us great feeling. On the other hand, we were really curious and try our best to ask the other teams when we face difficult question, it helps us to carve the answer in our mind forever.

Hope that Vietmark will design more trips like this fam trip in the other areas.

Mr. Thanh, Mr. Hai and me sent to Vietmark a big thank for this fam trip - exciting & unique & memorable.

Thanks & best regards
HO THI Y TRAM
HR/ADMIN DEPT.
SAN MIGUEL (VIETNAM) CO.,LTD.

From United Pharma - Vietnam:
Thank Vietmark for providing us a chance to participate in this exciting teambuilding program:

To improve the game rule, these are our opinions:
Only the team which reached the last station are ranked.
Points will be deducted much more for teams which do not play games and only buy the permission to go to the next station (the same number with the golden coins they get when they win).
Don't need to pay much attention to how much money we can save (each person get 200,000 VND, if you can save it, that great, but it is also not important if you couldn't)
That is great if we can save our golden coins.
The prize do not need to be cash, small gifts are also OK: hat/T-shirt of Vietmark/towel.... (because Vietmark has paid a lot).

I hope that Vietmark succeed forever and everybody always think of Vietmark when they need team building service and introduce Vietmark for another partners (it's unfair when you do not bridge Vietmark into friends and relatives after joining a free exciting trip from Vietmark).

Nguyen Phuong Tay
Regional Operation Manager
United Pharma (Vietnam), Inc.

From Vien Thong A Company:
Nice program. Good preparation. And the organizers, they are professional, they observed tightly but never hurt participants.

I wish that Vietmark has much more customers so that Vietmark can provide the happiness, experience and teamwork spirit for much more people.

Thanks,
Long T.A
Learning & Organization Development Manager
Vien Thong A

From SetiaBecamex:
Thank Ms Ngoc & Vietmark for a well-organized and successful trip. Till now I have lost my voice because I shouted too much! ! ! I offered some comments with Mr. Binh and Mr. Phuong and through the video (The Saigon Tiep Thi Newspaper have recorded it and had an interview in the Sunday morning). In fact, my opinions are personal and subjective. For example, the limitation of time can be extended at the finish. Of course, if it is applied, the last message will have the positive and negative faces.

Option 1: Keep the old rule:

- Advantage: the lesson tells you; there will be winners, losers and drop-outs. In the case of drop-out, you have to try your best to collect your materials as quick as possible to get the rank. The "Racing up time" meaning is really meaningful for those who feel it in the game.
- Disadvantages: Not almost team can earn a thrilling experience of the last minutes when they decide to use their material or not. My team has got this experience so that's a pity for those who quit the game, in my opinion.

Option 2: If the game rule was changed and forced participants must complete their duty at all stations, it makes the positive and negative faces which contrast the option 1.

PS: I am eager to have a look photos and videos of the trip.

Phan Phuc Hai
Manager, Training
SetiaBecamex Joint Stock Company

From Nam Viet bank:
Hope Vietmark will earn more and more customers and produce more special products like this one.
Best regards,

Nguyen Thuy Thanh Thanh
HR Manager
Nam Viet bank

By Vietmark
Overview
2 hours - 8 hours
Indoors - Outdoors
Competives - Collaborative
Minimum: 10
Maximum: unlimited
Key Bennefit
Corporate team building
Convey messages from management.
Receive / collect feedback
Test a new idea in simulations before applying them in reality
Active and Healthy Entertainment