Teambuilding in Vietnam
RETURN TO PREVIOUS PAGE
July 03,2015 |
The concept of team building was introduced in Vietnam in the 1990s after the country opened up its economy. It has been used by many companies to effectively manage their human resources...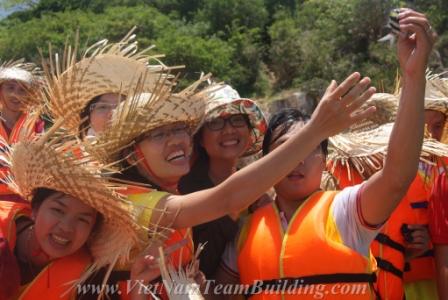 Program outline
The concept of team building was introduced in Vietnam in the 1990s after the country opened up its economy. It has been used by many companies to effectively manage their human resources. However, many people still do not understand what team building really means, often mistaking it with team bonding, an activity commonly seen in Vietnam.
Various team-building activities
Team building is in fact a course - usually held outdoors - that helps participants, through games, to experience and ponder over situations based on a facilitator's questions, from which they can draw practical lessons for their daily work. Team building helps members adjust their attitudes and behaviors so that they can work together towards the organization's common goals. It helps improve mutual understanding, coordination, interpersonal skills, and problem-solving skills for better work achievements.
Do Tuan Anh, director of VietMark Company, says there are seven types of team -building activities:
Providing a catalyst to forming groups. Organizers often hold outdoor activities through which members are forced to cooperate. Based on the rule of "Behavioral change results in cognitive change," a team is formed by individual members of a group of people.
Team status evolves from low to high following the stages of: forming a team (forming), establishing hierarchy (norming), competing for consideration (storming), and reaching a balance and highly effective state of teamwork (performing).
Reinforcing or reaffirming the values of a team, usually corporate values or organizational values. These activities can be organized indoors or outdoors. The highlight of this kind of team building is the result of a series of activities. At the decisive moment of winning or losing, everyone will realize that the meaning of the game is to make use of the corporate culture to achieve victory.
Conveying a specific message from corporate leaders. This is often used when the organization has a new leader. New leaders usually want to find out about personnel characteristics, which can easily be revealed through activities in a non-familiar environment.
Testing the reactions to changes in an organization. This is often applied when corporate leaders want to avoid risks in reality by using testing environments to assess the possibility of success of new ideas.
Boosting staff morale to prepare for a new stage of development of an organization, usually a corporate. This kind of exercise must be held outdoors for best results.
Building a culture of understanding and love of nature through which each member can understand themselves and their colleagues more thoroughly. This kind of exercise is usually used by social and government organizations, and schools and hospitals. This is the most difficult type of team building, and is always held outdoors. Members need some time for themselves to observe the meaning of the activities through which they can improve themselves.
According to Tuan Anh, a team-building course lasts between one and four days, mostly outdoors, in a variety of terrains such as fields, swimming pools, beaches, mountains, or forests. The best destinations in Vietnam are resorts in Tam Dao, Ha Long, Ninh Binh, Hue, Da Nang, Hoi An, Nha Trang, Phan Thiet, Long Hai, Phu Quoc, Con Dao, Madagui, and Da Lat.
Team building vs Team bonding
Team building is not simply a holiday with physical team activities; companies can benefit a lot from it. After a team building course, communication and coordination among members will be easier and more effective, especially among employees who work in different units or those who work in the same units but separately. Team building gives employees an opportunity to practice being a "team leader" through planning, organizing, assigning tasks, and arranging members and resources to achieve a common goal.

Through team-building activities, members can make use of their unity to work out creative solutions to problems and learn about others' personalities, weaknesses, and strengths to better coordinate with one another. They can also practice forecasting, planning, preventing risks, and dealing with unexpected problems. Through the courses, companies better manage and use their resources, build mutual trust and team spirit, and create healthy competition among individuals and departments.
However, team-building experts say team building can easily be mistaken with team bonding.
Team bonding involves simple activities that gather a large number of participants for team sporting competitions which highlight speed and physical strength. These fast-paced activities do not require brainstorming and cost less to organize. Team bonding therefore cannot bring the same benefits to corporates as team building. It is noteworthy that there is confusion between the two. In fact, up to 80 percent of companies which claim to organize team-building courses only organize team-bonding activities. Companies should therefore be selective in choosing a professional partner.

In Vietnam, VietMark company is considered a professional organizer of team-building programs. The company's founders are stalwarts from Ho Chi Minh City's tourist and training sectors. VietMark cooperates with human-resource consultants, experts in geography, history, ethnology, and culture, and well-qualified trainers and tour guides in Ho Chi Minh City and Hanoi.

VietMark has gained clients' trust thanks to its experience in consulting and organizing a range of team-building activities and designing creative programs.
Y Linh
Overview
2 hours - 8 hours
Indoors - Outdoors
Competives - Collaborative
Minimum: 10
Maximum: unlimited
Key Bennefit
Corporate team building
Convey messages from management.
Receive / collect feedback
Test a new idea in simulations before applying them in reality
Active and Healthy Entertainment