Away days - U.S consulate
RETURN TO PREVIOUS PAGE
July 03,2015 |
It was a challenge for team building organizers to come out a program with limited time only encapsulated in 2 days 1 night and with the combination of East-West factors.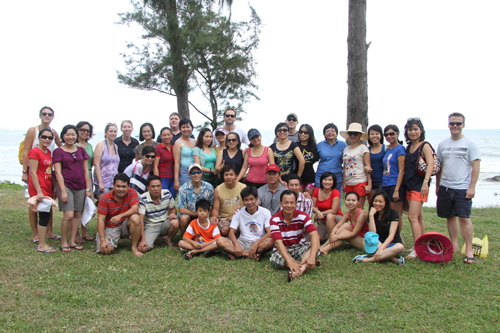 Program outline
It was a challenge for team building organizers to come out a program with limited time only encapsulated in 2 days 1 night and with the combination of East-West factors. However, with much experience and breakthrough creativity, Vietmark Teambuilding brought a perfectly designed program and detailed investment for the trip of U.S. Consulate in Ho Chi Minh City.

Such trip was started with Mom Da Chim Resort - Lagi - Binh Thuan, with blue sea and white sand and gentle, honest people.

U.S. Consulate's Lagi Day - Play as hard as anybody!
Right at 06 am, all members of the group had gathered at the U.S. consulate, they no longer confined in serious office clothes, in front of us are those exciting comfortable faces with stylish and light clothes which can show out all the dynamic looks and health of each person.


The bus started rolling carrying 72 guests with different nationalities (Western – Eastern). With active, exchanged, connected skills with every people by many kinds of songs, story telling... 2 guides of Vietnamese and English on each car of Vietmark had dedicated many exciting moments and loud laughter to all the members on the bus.

Therefore the distance from Ho Chi Minh City to Lagi was shortened, the cool wind appeared to welcome everyone soon. People enjoyed delicious lunch at the resort associated with little leisure time but there was enough time for people to restore energy quickly, ready for team building program, those activities promised to spark explosion of joy, increased collective connection and helped people discover strengths, weaknesses, some activities are still unknown but mystery.

With exciting emotion to join in the adventure, all members gathered at the central area to divide teams, 5 teams were formed and quickly started the first game.

Yet the rain storm came, not sooner or later, suddenly poured right at this time, intense and persistent. Vietmark staffs immediately distributed pocker raincoats to members. However, due to excessive rain, the rain drops did not stop whipping in the face ... one team ran away, the two teams ... and then the third team ... the organizers had worried for the well prepared team building program was about to collapse ... But there was still one team to decide to stay, far from the sea, in the heavy rain there was still one team passionately discussing about the plan to play the game ... That two images had a huge enormous impact, because the unexpected event happened ... each team seemed to have given up returning to the game with a new spirit, and determination to win.

We can see how strong team spirit were. We can see, obstacles can sometimes be a good opportunity, and they help us realize the potential of the collective strength.

Warm buffet party blurred the boundaries of West - East.
To compensate for the energy consumption of all members with meaningful team building games was a great buffet dinner, both literally and figuratively.

The party was so great with laughter and talk, and with the word "Dzo", " Dzo" in the two languages... made the atmosphere always warm by the friendly, opening and honest attitude ... Space had become more jubilantly when people started to sing karaoke presented by each member with songs in both English and Vietnamese. Everyone sang well, it was not derived from engineering, or technology of sound, that beauty came from the heart of everyone joining in the group, they sang freely, and transfer all sincere feelings in the songs at that time.

The party lasted until 22h, and 23h and 23h30 ... it seemed to have stopped ... But it did not stop, the moments of colleagues, friendship, love had kept them to stay together. The beach had witnessed the smiles, the endless story until they could not resist the tiredness and reluctantly to say goodbye, and they enjoyed a peaceful sleep in the sound of wave.

When dawn came, it brought the morning with Lagi characteristic, clear and cool, people are free to relax. Some went to the church early, some did sightseeing Thay Thim Palace. Followed by a delicious lunch and then people came back to Saigon, back to the old job with a new spirit, and a promise for a later trip.
Overview
2 hours - 8 hours
Indoors - Outdoors
Competives - Collaborative
Minimum: 10
Maximum: unlimited
Key Bennefit
Corporate team building
Convey messages from management.
Receive / collect feedback
Test a new idea in simulations before applying them in reality
Active and Healthy Entertainment